The screen-commerce revolution
New technology has arrived promising to utilize the connectivity of the Internet of Things to drive footfall back into the high street and forge stronger bonds between brands and their consumers.
The retail industry has long been undergoing colossal change as consumers radically shift their consumption habits, relying ever more on the convenience of online shopping platforms and the ubiquity of connected devices.
New data in June from postal delivery group United Parcel Service (UPS) found that the first time shoppers said they bought more goods through online platforms than from traditional high street outlets, 51% versus 49%. The news could hardly have come as a surprise with the ever-increasing proliferation of connected mobile phones and tablets making shopping as easy as swiping a finger.
While e-commerce retail continues to grow – estimated to top $1.9trn globally this year – it is the staggering surge in the mobile commerce sector (m-commerce), which poses the greatest challenge to the high street. M-commerce sales in the United States in 2016 are on track to leap 39% year-on-year to $123.13bn, according to research firm eMarketer – double the figure for 2014. The surging growth is a reflection of the widespread adoption of connected devices and the streamlining of the purchase process and is yet another manifestation of the upheaval which the Internet of Things (IoT) is bringing to the retail marketplace.
And it was with against this backdrop – the growing uptick in connected devices combined with the increasing pressure on bricks-and-mortar retailers – that Ingenico began working on a solution that would combine their expertise in contactless payments technology with traditional retailers' need to drive footfall.
Researchers from Ingenico's Next Generation Division held a series of meetings with large retailers to brainstorm a solution to the problem and the creation of a proof of concept (PoC) centred on the use of connected NFC-enabled screens linking merchants and consumers.
The concept was focused on developing a product that would harness the power of the growing interactive advertising sector, creating digital screens that would not only inform shoppers of specific products, brands and campaigns but take this one stage further allowing for an instant contactless purchase system.
The technology allows anyone with a connected device to interact with the screen, either by making a purchase with their contactless payment card, NFC loyalty card or by using their smartphone to collect a voucher redeemable in specific stores within a set timeframe.
Only one year after this PoC was created, and using technological breakthroughs made by Think&Go, which Ingenico acquired earlier this year, the new product was brought to market and trialled at Paris's St Lazare train station in a joint fundraising project with Cancer charity the Curie Institute, underlining the multifaceted nature of the technology.
The scheme saw the installation of an interactive screen at the bustling station as part of their 'A daffodil for Curie' campaign, where passers-by could see a series of moving videos, eye-catching facts and figures and compelling testimonials about the charity's work.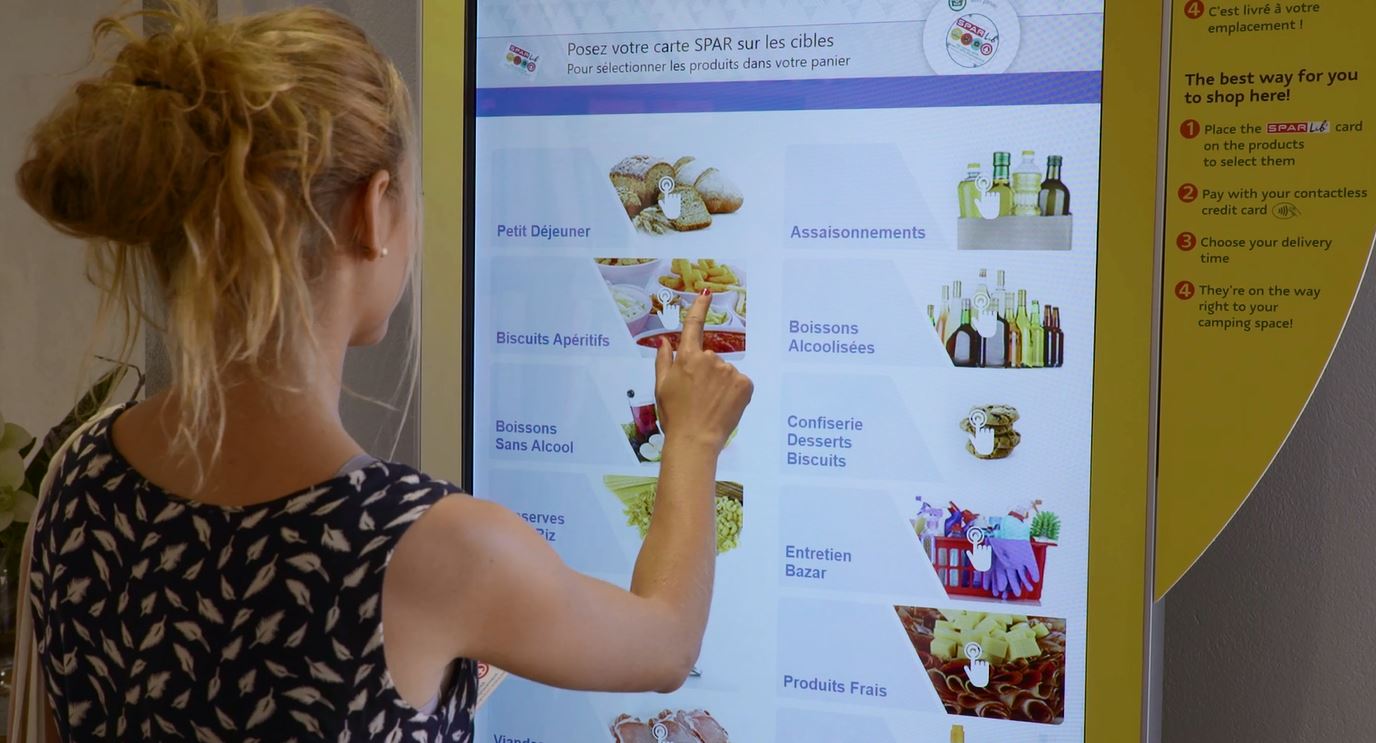 In contrast to traditional charity advertising campaigns, the screen allowed people to make an instant donation by tapping their bank card or connected device on the screen, just at the moment they were most moved by the group's message.
The technology was further tested this summer in coordination with the Groupe Casino chain of supermarkets with the roll-out of connected screens at 50 campsites across France. Here the screens were placed in campsites allowing shoppers to use their loyalty card to tap the screen and search and select from a range of more than 1,000 items.
To buy, shoppers simply tap the product image to add it to their trolley and then just tap their bank card or smartphone on the screen to pay. They can choose between picking their shopping up from the store or have it delivered to the front door of their holiday home.
One of the most dynamic examples of the potential of the technology is the 'Wall of Surprises' screen at the Italie Deux shopping centre at Place D'Italie, a bank of connected screens offering money-off coupons to shoppers that they can download directly to their smartphones.
The connected screen – a powerful selling tool
The Italie Deux project highlights the potential for the connected screen to direct foot traffic direct to the store. Featuring four multi-brand and multi-service connected screens as well as 40 NFC-enabled access points, it allows customers to access couponing, quizzes and much more to boost engagement with brands. Consumers just tap the NFC device on each offer to select them. They can then go to the selected shop within three hours to present their NFC device to take advantage of the offer and then pay for the item.
For retailers, connected screens open up new sales channels that are easy to set up as well as providing customer support through an interactive display. The technology has the potential to revolutionize digital signage by turning an interaction into a transaction.
Meanwhile, as our graphic below indicates, embedded connected screens in vehicles are rapidly becoming the norm, providing drivers with a new means to pay for parking, motorway tolls or even checking into hotels, and illustrating the potential retail opportunity for brands.
Interview / Vincent Ducrohet, Director of Next Generation Division
Advertising platforms are evolving rapidly from the static billboards of old, and the concept of interactive, payment-enabled screens is in the vanguard of a new digital advertising revolution.
We spoke to Vincent Ducrohet, director of Next Generation Division at Ingenico about how the technology is reshaping the advertising landscape.
How is Ingenico's connected screen taking the concept of interactive advertising one stage further?
The driver for this was really to see how we could bring payment acceptance to the Internet of Things (IoT). We are convinced that this will radically change how consumers interact with brands and merchants. The issue with the IoT is that there is such variety in the type of connected objects. There are personal objects, both large and small – from a connected car to a watch or activity tracker – and then the merchant-based objects, such as digital screens.
We started looking at these concepts to evaluate whether they would fit with our ecosystem. After a few meetings with large players, we got very positive feedback. This led us to a proof of concept focusing on connected screens with real merchants and consumers. We wanted to examine consumer adoption and usage patterns to see if people would accept tapping their card on a screen in the middle of a train station. It provided a fascinating insight into the consumer's perception. Consumer feedback about signage was very positive after the first pilot.
How is interactive advertising changing these sectors?
Companies are selling through communication agencies and the pricing is based on the audience and audience is calculated statistically. There is strong pressure on price, there are real challenges with mobile, TV ads, all kinds of new media. What we bring is a way to create real differentiation, not just to provide ad media but to really create a way to enhance a communication tool and transform it into a sales tool as well.
It is no longer just a screen displaying advertising. You can create a pop-up store, you can create a point of sales directly on the screen so the business model for a digital signage company is really moving from just displaying an advert to drawing new merchants, driving new transactions and new customers.
How big are connected screens going to be for retailers and the digital signage industry?
We are enabling a new marketing channel to customers. In terms of impact, for the digital signage industry, it is huge and probably to be completely honest, this is a truly innovative use of the technology. In the next one or two years, we will probably see wide-scale deployment throughout Europe and the US.
Previous:
Russia gets Apple Pay and Samsung Pay
Next:
Digital wallets to drive online sales to $7trn by 2020