The Nordic countries ready to say goodbye to cash
In our Contactless series across Europe, we have looked at a variety of countries, each at different stages of their digital payments journey. Whilst all have experienced big changes in consumer behaviour, much of it in response to the pandemic, the Nordic countries were already getting ready to say goodbye to cash before Covid-19 had even arrived.
Nordic nations account for 4 out of the 10 most cashless countries in Europe and are amongst the most cashless nations of the world[1], with Norway leading the way, closely followed by Finland, Sweden, and Denmark.
What is interesting about the Nordic countries is not so much that they are moving away from cash whilst other countries are not, rather that they are so much further along the journey to a digital society, giving those of us living elsewhere in Europe a glimpse of what might be coming soon to a country near you…
Early adopters in the dash from cash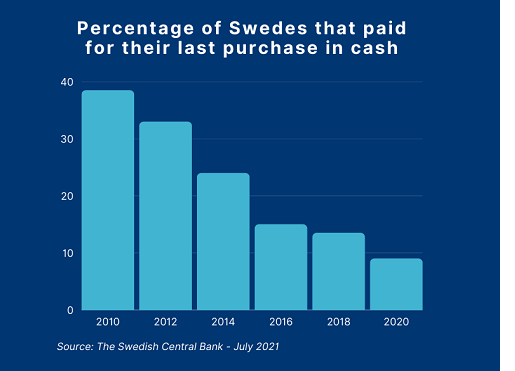 Sweden, one of the most technologically advanced nations on the planet, is predicted by some to become the world's first cashless society by March 2023[2]. In the last ten years, the proportion of goods paid for with cash has fallen from around 40 per cent to less than 10 per cent[3]. Cash is now mostly used for small payments and primarily by the older population. Many bank branches have closed, and of those that remain, the majority have stopped allowing customers to make cash transactions.
Earlier this year, Norges Bank, the central bank of Norway, reported that Norwegians are using coins and bank notes for just three to four percent of their financial transactions[4]. This news moved Norway into prime position as the most cashless Nordic country, ahead of neighbouring Sweden.
In 2020, 65% of payments at physical points of sale were contactless[5], a share which increased throughout the year with BankAxept reporting that 80 percent of payments in December 2020 were contactless.
Financial inclusion and financial exclusion have become uneasy partners
The paradox here is that whilst Sweden is viewed as being very successful at financial inclusion, with more than 99% of the population having a bank account[6], (the world average is 58%), there is also financial exclusion for those who rely on cash, such as the elderly or disabled.
This situation led The Riksbank, Sweden's central bank, to adopt legislation at the beginning of 2021 under which the six largest banks are obliged to provide certain cash services, ensuring a minimum level of access to cash for consumers and companies.
The issue of exclusion has even surfaced in a reality tv show, Seniorsurfarna, or 'Senior Surfers', which sees celebrities sent to a training camp to learn about digitalisation and technical developments.
The dramatic shift away from cash has also caused concern in Norway. The country's Finance Ministry has requested that Oslo's Financial Supervisory Authority establish a plan to guarantee the availability of physical cash to customers, and avoid Norwegian banks denying that it's their responsibility to offer these services, as has been the case in Sweden[7].