Contactless 2021: How the Covid-19 pandemic has softened Italy's reliance on cash
Contactless transactions have seen huge growth in Europe in the last couple of years, but the pace of progression to digital payments is unique to each nation. Continuing our journey across Europe, we hear from Paolo Temporiti, country manager for Italy at Ingenico, a Worldline brand, who examines the latest contactless trends in the cash dominated Italian market.
Italy loves cash. It dominates the day to day running of the economy, and while other countries have embraced digital and card payments, Italy remains attached to coins and banknotes.
But, like elsewhere, the global pandemic has had a major impact on payments, resulting in a dramatic boost in the use of e-money. Contactless transactions have increased, government initiatives have been introduced to boost card usage, e-commerce has grown significantly, and we have seen double digit growth in the use of mobile and wearable device transactions.
Italy's journey has been very similar to that travelled by other countries across Europe, and we are still experiencing the tail winds, even in 2021. But the increased acceleration away from cash dominance has been one of the few positives to come out of a very difficult situation.
Smartphones and wearables are driving digital growth
Contactless payments in Italy grew by 29% in 2020 to 81.5 billion euros, of which smartphones and wearables accounted for an impressive 3.4 billion, an increase of 80%. This growth, supported by the accumulation of contactless cards in circulation, also benefitted from the new threshold of €50.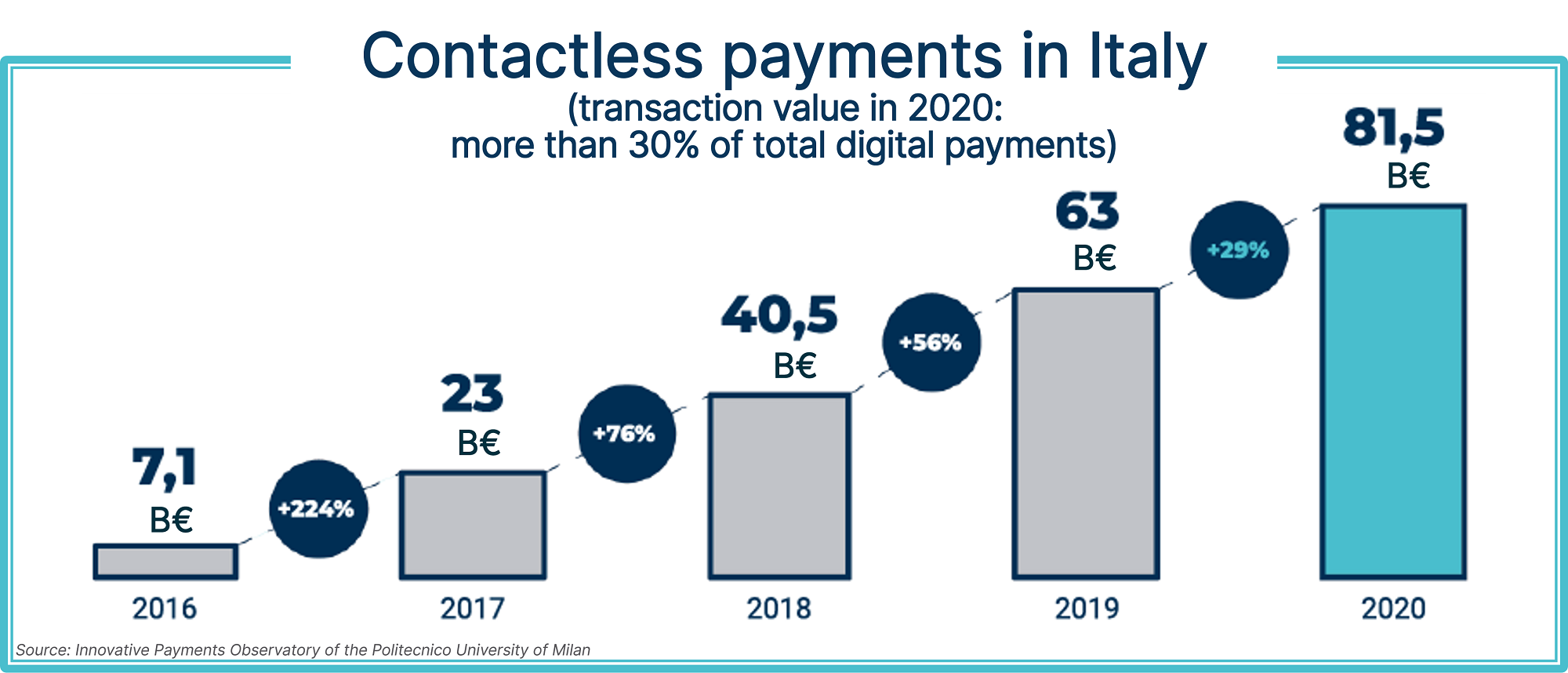 Contactless methods became popular with citizens keen to avoid the spread of infection by Covid-19, and this new preference for 'tap and go' solutions helped to support the uptake. The payment industry was well prepared for this significant change in consumer behaviour, with over 90% of POS already equipped to accept contactless transactions.
Despite a general decline in consumption of over 13%, digital payments in Italy in 2020 reached 5.2 billion transactions, rising from 29% to 33% of the total value of national payments1. This represents 268 billion euros and increasing penetration in respect to cash, though this remains the dominant form. The Bank of Italy estimates that there were 2,000 transactions per POS per year in 2020 with an average of just 6.7 per day.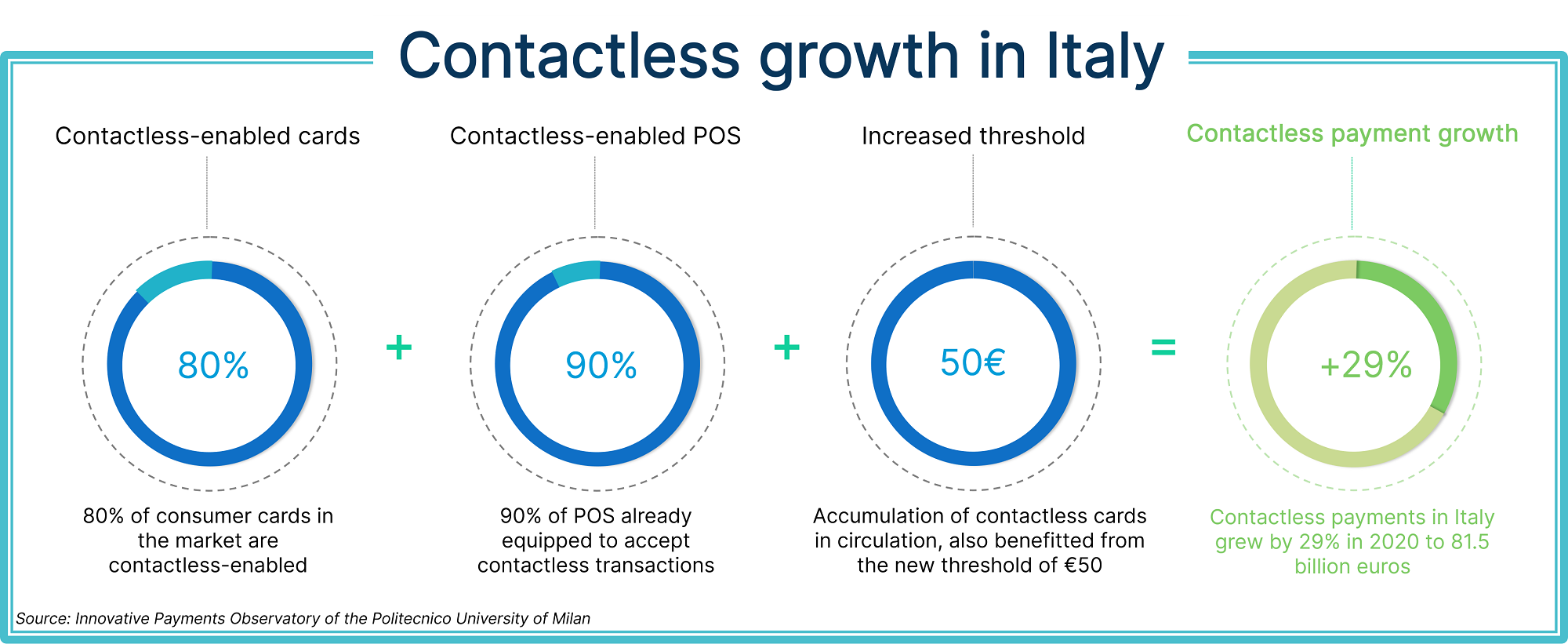 The constantly connected consumer
Whilst the journey to digital payments still has a long way to go, consumers in Italy are starting to make purchases in different ways, using both offline and online tools with an approach that can sometimes surprise sellers, especially through the use of smartphones. The Politecnico University of Milan estimates that more than 50% of online purchases are now started by personal smartphones. But most stores were 'digital-ready' even before the pandemic, even if consumer behaviours have only taken this new direction in recent times.
The increased use of digital tools is also confirmed by a Netcomm study2 in Italy which showed that during the pandemic, 13% of digital users started and completed their purchase process online compared to 2% the previous year: a strong signal for all merchants who have "physical" stores.
Smart digital payment is driving demand
The payments industry in Italy is perceived as a commoditised business, which has forced big operators, and newcomers, to focus on innovation. And to drive and bring improvements to market, merchants need to leverage smart devices, value added services, apps… whatever brings more value to the payment transaction.
Italy has started to surf this technology wave, and whilst we are not leading the innovation race, there are increasingly positive signs that good progress is being made.
This is illustrated by the emergence of new formats, including omnichannel and click and collect, which saw growth of 20% in the Food and Grocery sector in 2020. Discount stores and small retailers started working on ecommerce platforms for the first time, and the use of mobile terminals grew supporting new delivery services, helping to provide the best operational support for customers.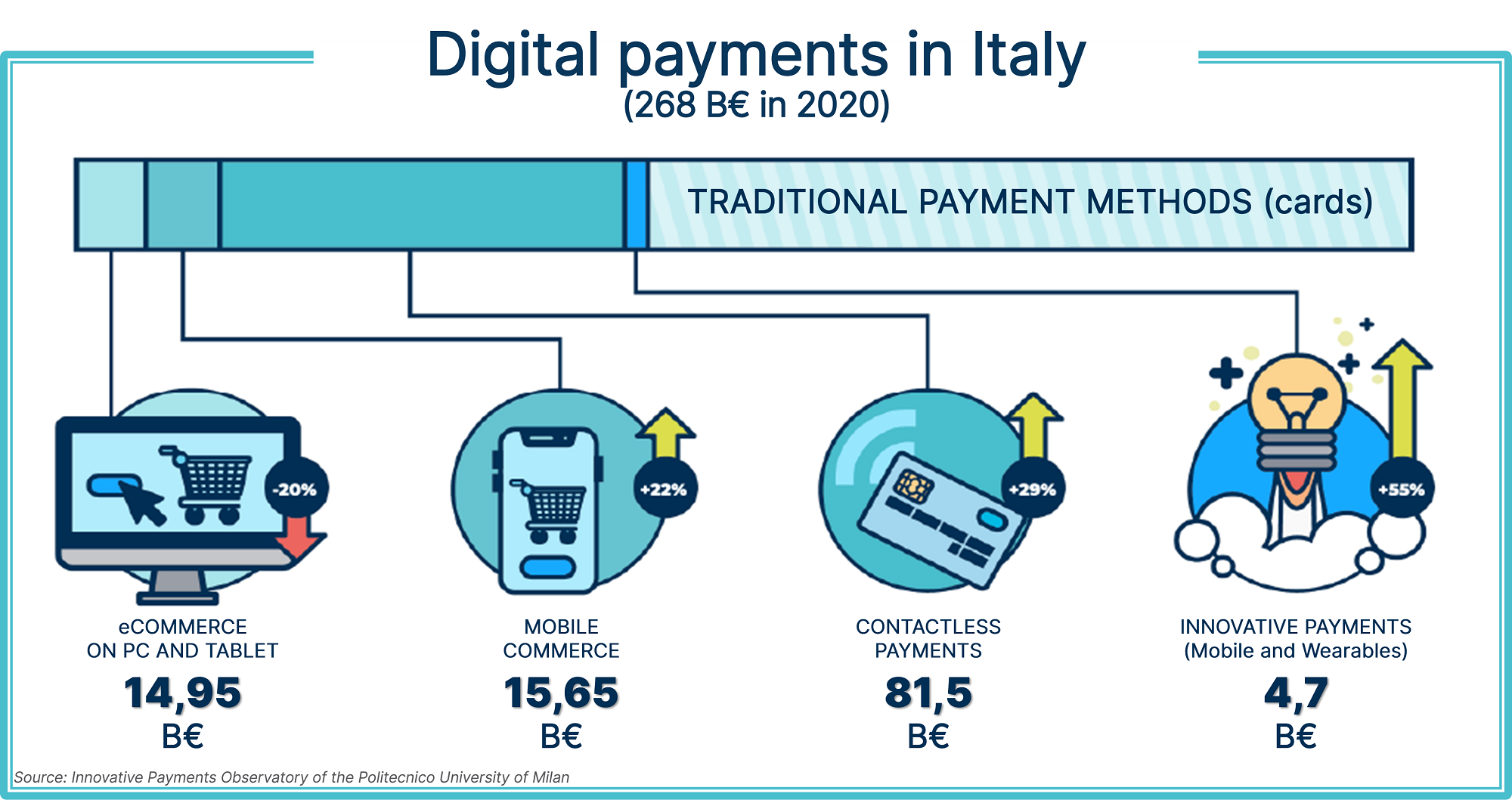 The road to cashless is set
Italy may have longer to travel on its digital journey away from cash, but the movement is accelerating. A great example of the innovation needed to support this was the launch of the first contact-free store which opened recently in Milan, accepting only cashless payments. This would have been hard to envisage even only a couple of years ago and is important progress.
Despite Italy's conservative approach to money, the transition from physical to digital is clearly taking place and the growth in contactless usage will help to establish it as a favourite with customers. We need to build on this increased confidence and maintain the momentum for the cashless revolution to take a firm hold.
As the value proposition of cashless payments grows stronger, Ingenico remains at the forefront of contactless innovation, supporting its customers with the payment technology they will need to meet the evolving needs of Italian consumers.
What's IN store - How new digital trends disrupt the Italian cash culture?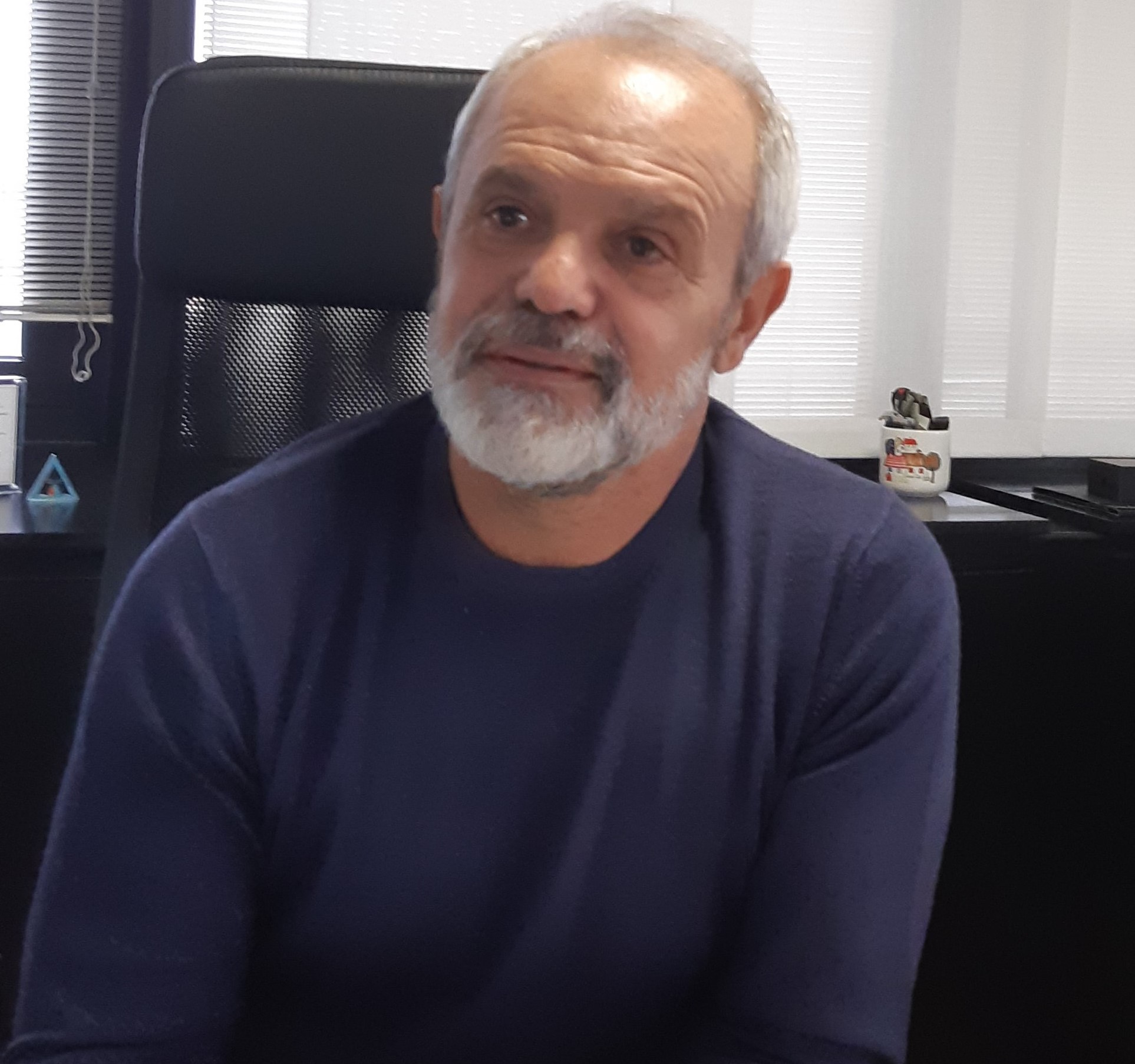 About the author
Paolo Temporiti, Head of Terminals, Solutions and Services GTM Italy and South Eastern Europe, for Ingenico, a Worldline brand.
With over 25 years' experience in the world of payments in Italy and Europe, Paolo joined Ingenico in September 2020 to coordinate the strategic direction in Italy and South Eastern Europe. Previously he has held senior roles for Cardtek, ACI Worldwide, as well as a variety of Banking and Fintech operators, and was SVP of Business Development in First Data's International Regions with responsibility for their issuing and acquiring solutions. A graduate in Economics, Paolo has been involved in the development of new technological solutions and has actively driven some of the most significant developments in the sector.
About Worldline
Worldline [Euronext: WLN] is the European leader in the payments and transactional services industry and #4 player worldwide. With its global reach and its commitment to innovation, Worldline is the technology partner of choice for merchants, banks and third-party acquirers as well as public transport operators, government agencies and industrial companies in all sectors.
Powered by over 20,000 employees in more than 50 countries, Worldline provides its clients with sustainable, trusted and secure solutions across the payment value chain, fostering their business growth wherever they are. Services offered by Worldline in the areas of Merchant Services; Terminals, Solutions & Services; Financial Services and Mobility & e-Transactional Services include domestic and cross-border commercial acquiring, both in-store and online, highly-secure payment transaction processing, a broad portfolio of payment terminals as well as e-ticketing and digital services in the industrial environment. In 2019 Worldline generated a proforma revenue of 5.3 billion euros.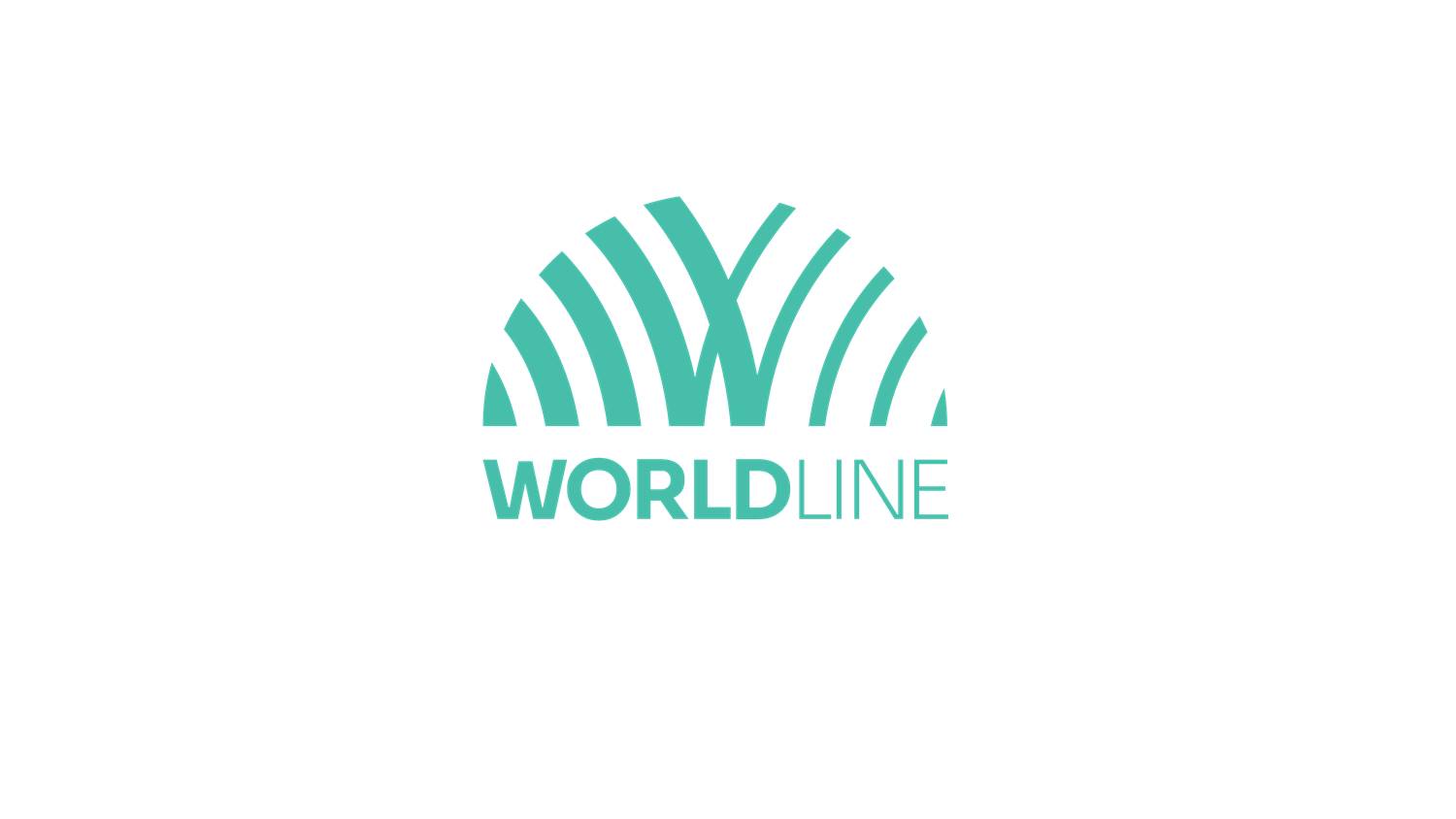 Previous:
Contactless 2021: Will a £100 contactless limit be the final nail in the coffin for cash payments in the UK?
Next:
Contactless 2021: How small business is driving contactless adoption in France