How to digitise consumer loyalty and maximise conversions
We've all heard the old adage that it's five times more expensive to acquire a new customer than to retain an existing one. Well, what if I told you that no longer applies?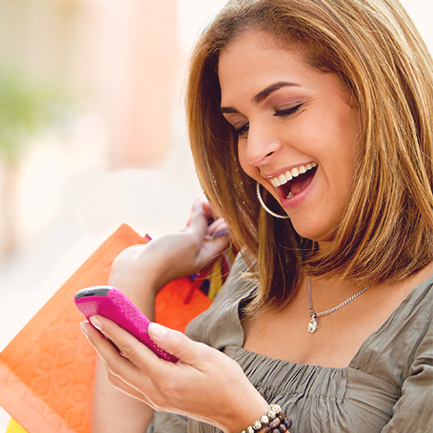 It's enough to make you sit up and take notice, isn't it? It's true. The rulebook around marketing and customer loyalty is being rewritten, new relationships are being forged and the old thinking simply no longer applies.
New technology and solutions are enabling true one-to-one contact with the customer, when it matters most, through their mobile wallet. It's making it easier and cheaper to build deeper relationships with existing customers and recruit and retain new ones.
IT'S NO LONGER JUST ABOUT POINTS-BUILDING
Retailers and brands are realising that the traditional model of customer loyalty programmes is broken. They recognise that building customer loyalty isn't just about offering customers points and discounts through plastic cards that get forgotten or which aren't signed up for in the first place.
Instead, the new model embraces emotional customer loyalty, built by offering shoppers exclusive, experiential rewards that they simply can't get anywhere else.
It's about experiences that build true brand advocacy and are easy to access when it's relevant to the customer – ie at the point of payment or when inside or near the relevant store.
OVERCOMING THE PAIN POINTS
Digitisation of customer loyalty schemes allows retailers to get over the pain points that have traditionally hampered loyalty programmes – including the challenges of enrolment and redemption.
It also offers richer opportunities for communication with the customer, allowing retailers to truly connect with customers via their digital wallets – a platform that drives greater engagement and at lower cost. It enables personalised interaction, such as timely push notifications to alert consumers inside or near a store that they have rewards on offer or invite them in-store for experiences other shoppers won't have access to.
The new era of customer loyalty is about creating powerful, impactful loyalty campaigns that truly mean something to the customer with a quick and easy process.
3 reasons why loyalty programmes need revamping
Time-consuming enrolment – Customers don't want to wait and don't want to make others wait either. In-store, the pressure is on and online they simply forget to convert. They need the ability for fast, easy sign-up that relieves the pressure on all.
Outdated rewards – Points or discount-based schemes can still play a role in generating loyalty but customers want more to woo them. Experiential rewards ensure the customer feels truly valued. But they also need to be well communicated so that offers and invites are timely and relevant.
Failure to make the most of membership – More often than not, customers don't make the most of customer loyalty schemes. They forget to use their cards or don't have them. They don't get their rewards and the retailer doesn't get the sales data. Ease of access is key.
Ingenico realises the true value of customer loyalty and aims to help retailers embrace the change needed to forge the new emotional bond required.
RECRUIT AND RETAIN FOR LESS
Our new loyalty solution Tap & Connect, offers retailers a quick and easy process to sign up new customers to loyalty programmes and push rewards and benefits to existing loyalty members, reducing the cost, time and effort needed to build truly loyal customers – old or new.
With Tap & Connect, the payment terminal recognises whether or not customers have a loyalty pass stored in their digital wallet when they go to pay using their smartphone.
If they don't have one, customers receive a push notification that enables a two-click creation of the loyalty pass, especially when data such as name and address is pre-filled using information from the wallet.
If they have a physical card but not a digital one customers are encouraged to convert it to a loyalty pass. Existing loyalty pass users meanwhile are prompted with redemption reminders at the point of payment, as well as having the ability to receive push notifications for special events.
SIMPLICITY IS KEY
In the brave new world of customer loyalty, simplicity is key. Streamlining the sign-up experience improves life for both the customer and the sales associate. Reminding customers they have rewards to redeem at the point of payment, without the complication of finding a card or looking up details, means higher conversions.
Customers make more of the rewards on offer and grow more loyal as a result. Retailers gain extra data and are able to forge stronger relationships. Can you afford not to be building the new emotional bond that customer loyalty today demands?
To find out more about customer loyalty, have a look at our position paper, Forging fidelity: Customer loyalty gets a digital makeover.
Previous:
Ingenico & Mastercard – How SCA Will Affect the Travel Industry
Next:
Delivering a return on convenience: how retailers can build a new network to win customers and keep them