How tech-augmented sales associates are reinvigorating retail
Once upon a time in retail, the bricks-and-mortar store was king, and sales associates were the critical lynchpin connecting consumers with product.
Sales teams were alone on the frontline, responding to shopper questions, highlighting product benefits, upselling while forging and maintaining the bond between brand and consumer.
Physical retail shops are now on the threshold of a new era as the in-store mobility phenomenon reinvents the role of the bricks-and-mortar store and dramatically enhances the role of the sales associate, not to mention maximising their revenue-generating potential.
Modern retail is an omnichannel experience, providing shoppers with an integrated online-offline sales journey that creates a smoother shopper experience and provides retailers with insightful consumer background.
In-store mobility solutions are another facet of the omnichannel strategy, empowering sales associates and consumers with an integrated retail experience.
EMPOWER YOUR SALES TEAMS
Technology is radically shifting the dynamics of the relationship. According to a recent study by OuterBox, 80% of shoppers use their mobile phones inside a store to check product reviews.
This gives them a tremendous insight advantage when speaking to sales associates.
The solution? Simple.
Provide sales associates with a connected device that provides them with not just product data, but also insight into the individual consumer. This allows greater personalisation of the shopping experience, plus more sophisticated cross-sell and upsell opportunities.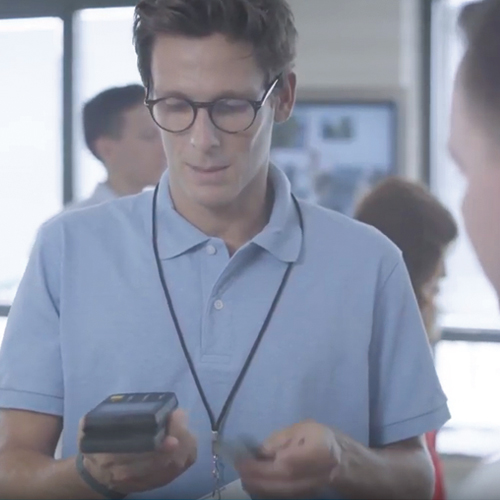 MAXIMISING MOBILITY POTENTIAL
Our most recent innovation, iCON, will allow retailers to provide their sales associates with smart, connected devices combined with mobile payment terminals, to maximise the potential of the mobility trend.
Currently in prototype-phase, iCON includes a patented smart enclosure to combine a payment terminal with an off-the-shelf mobile phone to create a flexible, easy-to-use solution that is operating system agnostic and that accepts all payment methods via a maximum security P2PE link.
The potential is huge. A total of 88% of shoppers say they are more likely to buy if sales staff are knowledgeable, according to a recent TimeTrade report. In-store mobility also enables retailers to combine smart devices with mobile payment terminals, meaning sales associates become roaming checkouts. Not only does this mean greater convenience for shoppers, but removing fixed location checkouts means freeing up additional floor space for sales.
But all this potential will be wasted if retailers fail to onboard their sales associates. It's time to get staff excited about the potential of in-store mobility. Retailers need store associates that understand, embrace and are genuinely excited about the capability that in-store mobility offers when it's used to its best advantage.
The key to this is training. Retailers must empower their sales associates with the knowledge of how to use in-store mobility solutions, highlighting how they can dramatically help drive conversions.
This isn't just a payment project. It's a business transformation project that can bring true change.
3 reasons why retailers are racing to launch in-store mobility programmes:
Selling rich products – Sophisticated, high-value products require in-depth detailed product knowledge. Associates + tablets = unlimited, constantly updated insight, which drives higher conversion rates.
Providing a VIP experience – In-store mobility solutions can help build the personalised retail journey consumers demand. Offering shoppers relevant upsell opportunities and a more consistent brand image.
Queue busting – Checkout queues are THE pain point. 78% of shoppers say they have abandoned purchases due to long queues. In-store mobility eliminates checkout queues, by removing fixed checkouts. It increases floor space dedicated to sales.
Ingenico has long championed the in-store mobility phenomenon with a range of payment terminals to match the needs of all retailer ecosystems, to accompany our clients embarking on their in-store mobility programmes.
iCON will combine a smartphone with Ingenico's LINK/2500 terminal and is just the latest in a suite of Ingenico solutions to address retailers' in-store mobility needs.
From the ISMP4 with an inbuilt barcode reader to the MOVE/5000, comprising a camera or barcode reader with an integrated printer, Ingenico's solutions enable each retailer to customise their own, individual in-store experience.
A TOUCHSCREEN TAP AWAY
Today, sales associates remain the lynchpin in the retail bricks-and-mortar space, but they no longer need to be alone. Providing them with an in-store mobility device puts a wealth of product and consumer insight only a touchscreen tap away, enabling them to create a new, personalised shopping journey, that puts the shopper at the heart of the experience.
In today's modern, connected retail world consumers demand their shopping journey be smooth, hassle-free and with seamless online-offline interconnectivity.
In-store mobility offers you the opportunity to provide exactly that. Whether you seize that opportunity is up to you.
To find out more about in-store mobility, have a look at our position paper, Roaming Retail: How in-store mobility is redefining the shopper journey.
Previous:
Ingenico & Mastercard – How SCA Will Affect the Travel Industry
Next:
How to digitise consumer loyalty and maximise conversions