Younger consumers are shifting North American payments
Payments in North America have become increasingly dynamic over the past two to three years. As consumer demands and payment capabilities grow simultaneously, our research here at Ingenico has highlighted a number of key trends shaping the industry across the region. Take a read to see the new opportunities and challenges expected in the months to come.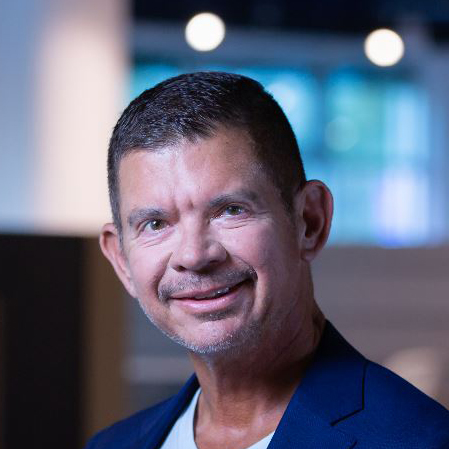 Today's consumers are all over card payments, with 40% of U.S. consumers opting for credit cards as their primary payment method, both online and offline – 35% favour debit cards. It's no surprise then that credit card transactions are expected to represent 50% of payment revenue in North America in the next four years.
As credit cards work their magic on the continent, we're seeing younger consumers shift their focus to a more digital affair: ePayments and mobile wallets like Apple Pay and Google Pay. Currently some 35% of millennials and more affluent North American consumers use their mobile phones to make payments both in-store and online on a regular basis – compared to 23% of consumers on average. This means we're now level with Asia Pacific in regards to mPOS (mobile Point-of-Sale) payments, which are made by one in five smartphone users.
The adoption of eWallets isn't just being driven by consumers, but merchants too. Innovative merchants are incorporating tailor-made loyalty initiatives into their propositions, encouraging the growth. At the same time, demand among North American consumers for security (74% said they would choose a payment card with greater security over one with greater rewards) makes mobile payments an attractive option, with the ability to view and stop transactions, as well as activate or deactivate cards as required.
Modern ways of advertising and selling via social media are certainly influencing how North American consumers browse and shop online. In 2017, nearly half of social media users made a purchase directly from a social media post – Facebook and its 240 million American users topped the list, followed by Instagram with 8.6% of purchases.
We also can't evade the marketplace goliath: Amazon. The multinational company leads the marketplace arms race, with an estimated marketplace volume of $135 billion in the U.S. – and that's expected to rise to $259 billion by 2020. Following the rise of Amazon and others such as Newegg, eBay and Etsy, 37.4% of U.S. consumers now shop less often in-store, exceeding the global average by 9.4%.
Still in its infancy in North America, but firmly in the development pipeline, conversational commerce (i.e. chatbots) represent another huge business opportunity. How merchants interact with consumers can make or break a brand; chatbots can enhance this engagement. However, more than half of consumers (56.4%) are still not convinced, presenting a challenge for the industry. To encourage public opinion, merchants must ensure their payments via messaging apps and voice-activated technologies become as seamless as they currently are via the web.
As controversial as a non-human sales team comes across, around a third of U.S. internet users would consider using chatbots to shop. Younger consumers like generation Z are the most likely demographic to adopt this technology – easy to anticipate, though, as they're the ones growing up with it.
Although the U.S. has a reputation for being slower to adopt emerging payment methods than other markets around the world, this could soon be a thing of the past. Significant strides have been made in recent years and, with industry testing of real-time payments now underway, the government has made a clear commitment to embrace new technologies and drive further ePayments growth in the future.
That being said, one size does not fit all. As the divide in preferred payment methods among consumers (younger, more affluent vs. older, less affluent) continues to expand, it's now more crucial than ever for merchants to offer a range of payment options at the checkout that are tailored to the needs of their target audience.
This is just the tip of the iceberg, though – and only one corner of the world. In the Ingenico Four Corners of Global Payments report, myself and Matias Fainbrum from the LATAM market, Nathan Salisbury from APAC, and Nick Tubb from the EMEA region, take a deep-dive into how the payments industry is evolving around the world.
Download the full report from our website to learn about the changes that are affecting your market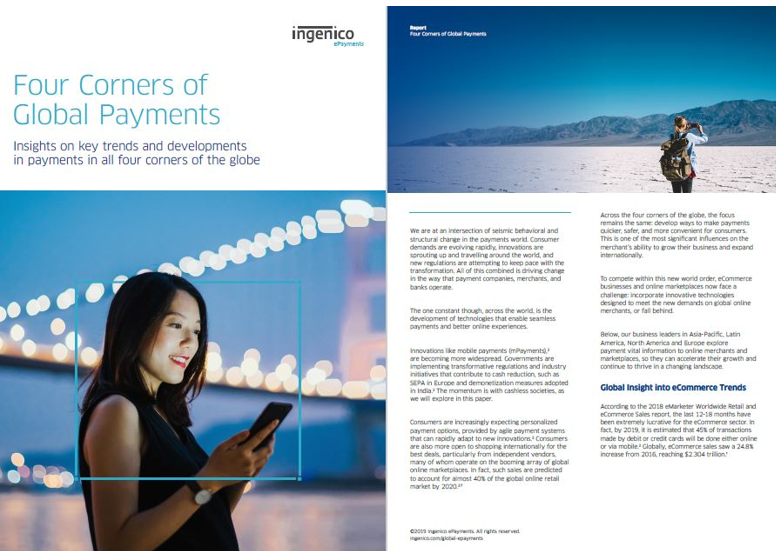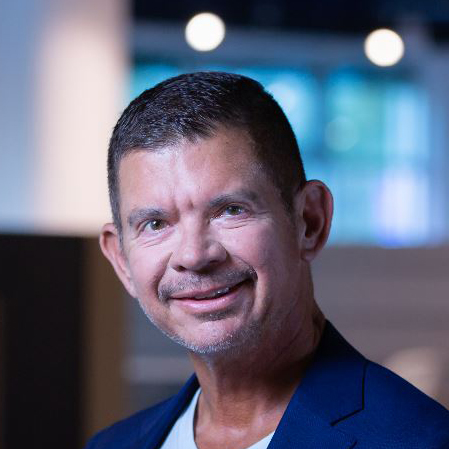 Joseph Leija / General Manager, North America at Ingenico ePayments
Joseph Leija is General Manager, North America at Ingenico ePayments. He has over 20 years' generating top results in the banking and electronic payments industry and has worked with many of the top 100 global eCommerce merchants, enabling them to expand their businesses internationally. Before joining Ingenico ePayments, Leija worked with Sage Payment Services, helping to expand the company's footprint among associations and Independent Software Vendors (ISVs). Prior to that, he was a Vice President with Chase Paymentech, running a team that consulted directly with merchants and supporting their global expansions. Earlier in his career, Leija worked for First Data, where he managed the Relationship Management team supporting T&E clients. In addition, Leija developed and supported the company's international strategy. Joe serves as a board member for Payment's Ed. He has an MBA in Finance from Loyola University Chicago, and he currently lives in San Francisco with his family.
Previous:
How payments are changing across Europe
Next:
Embracing a new era of digital transformation in Latin America