Women at Ingenico
Ingenico is determined to play a lead role in ending the misconception that the technology sector is a male-only realm.
Read their stories!
Follow us on social media and discover their stories: #WomenAtIngenico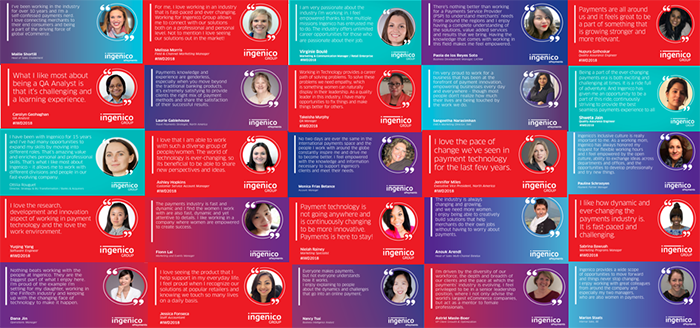 Wanna join our fast-paced and dynamic company and shape the future of payment?
As well as recruiting more women, we've launched initiatives worldwide that focus on female career enhancement, achieving pay equality and enabling a better work-life balance for all our staff.
Women in Payments
Women in Payments® is a growing global network of women working across the payments ecosystem who strive for gender parity. It connects and empowers like-minded women in the industry.
Its non-profit Global Mentorship Program, of which Ingenico is a founding sponsor, was launched in May 2017 and boasts participants from the United States, Canada, Australia and the UK. Over the course of six months, mentors and their mentees have six one-hour one-on-one sessions to support the mentee, with mentors giving guidance and sponsorship based on their successful careers and general experience.
Suzan Denoncourt, Ingenico's Managing Director for Canada, sits on the advisory board of Women in Payments. Read her views about the importance of female advocacy in payments and how the sector can recruit more women here.
Elles bougent
Elles bougent is a French association encouraging high school girls and young students to pursue careers in traditionally male sectors such as transportation, engineering and finance. Several of Ingenico Group's prominent female employees act as a 'godmothers' or female sponsors, offering support, advice and inspiration to the future generation of women in payments. Our Elles bougent sponsors come from all areas within Ingenico Group, including Marketing, Logistics, Technical and Sales.
Previous:
FX and the Evolving Payments Landscape: How currency strategy can catapult or kill your role as a global eCommerce player
Next:
Highlights from Money/2020 Asia