3 innovations in payment which are breaking new ground in retail
If 2017 left its mark on the retail sector with numerous changes, 2018 promises a transformation which may well be even more radical, or at least more visible – especially with the recent opening of the first checkout-free store, Amazon Go. Retailers are looking to develop their stores and, on a more general level, the customer experience. They have realized that consumers no longer think of their purchases in terms of sales channels, but quite simply expect a smooth, simple experience at all times, whatever their device or path to purchase.
In order to respond to these new needs and blur the lines between physical and digital commerce, payment is becoming invisible, and is being integrated into chatbots, connected screens, self-driving cars and – in the future – into all connected objects!
1. The age of conversational commerce is becoming reality
Conversational robots are dramatically changing the way in which businesses are designed. For advertisers, the challenge is finding the right way to incorporate this new tool into their marketing plans. What we are seeing is the lines between personal and professional conversations becoming more and more hazy, with brands now merging into the personal sector of instant messaging so as to be ever closer to consumers. Integrating payments into this conversational environment therefore becomes a natural evolution of payment methods, so that merchants can convert these interactions into sales directly in the environment where the discussion is taking place.
Let's imagine, for example, that a customer uses a brand's messaging service regarding an article which they have not been able to find on the site. The chatbot can immediately send them both a link to the item that they are searching for and a payment option.
A similar conversation could take place about travel plans, with a customer wanting to reserve a seat or update their reservation. Once again, options can be sent directly to the customer within the messaging service, where they will be able to sort their journey out straight away. In both cases, consumers are directed towards the exact service or product that they are looking for, and payments seamlessly integrated into the conversational environment make it easy for them to pay.
Learn more about the conversational commerce revolution
Connected screens: the front line between online and offline
Brands are developing new devices which combine a digital display with direct selling of products or services. Connected screens have already been rolled out in drive-to-store solutions where engagement rates are nearing 20%, while the conversion rate of unaddressed marketing materials are lower than 1%. Other devices have already been tried and tested, to improve the quality of guests' holiday experiences on a campsite by providing a connected screen for them to do their shopping or make donation collections easier by enabling people to simply touch their bank card on the touchscreen interface. These feature-packed screens are likely to become more common in both the short- and long-term in stations, waiting areas, and even shopping centres. In partnership with Mastercard during the Australian Open, three connected screens were installed to raise funds to send 100 million meals to children around the world.
Similarly, when used as a drive-to-store solution or assistant, Pepper the little humanoid robot is now able to accept payments directly using his interactive tablet, and generated much curiosity during NRF 2018.
He could well become the entire family's personal assistant, ordering refreshments while they wait around in the airport perhaps, or taking care of checking in and checking out once they arrive at the hotel.
One thing is certain: the arrival of these connected screens will undoubtedly further the uptake in use of NFC, which is when consumers' buying experiences will really benefit.
3. And what about their travel experiences in self-driving cars?
Formerly the stuff of science fiction, connected cars are now a reality. Cars are no longer just a way of getting from A to B but will soon be somewhere that you can also shop, pay, and play. Automotive services using the IoT are going to develop exponentially. According to a report from Intel and Strategy Analytics, passengers of this new economy could well amount to a market worth up to $7 billion by 2050. The integration of connected and driverless vehicles into retail and e-commerce has enormous potential, according to a 2015 report commissioned by Ingenico. In the longer term, driverless vehicles will enable even greater integration with stores (click-to-destination) and e-commerce (automated delivery).
Broadly speaking, vehicles will have two types of payment on board: those related to driving and the car itself – such as parking, tolls, ticketing and infotainment – and those whereby the vehicle is part of a larger environment – such as being the drop-off point for deliveries or being able to use car keys as a payment device outside of the vehicle. Aside from journeys between home and work, one of the most frequently made journey types is to the shops, meaning that marketing experts see huge potential in being able to offer geolocation-based advertising and discount coupons or special offers when a vehicle is close to a high street or shopping centre.
Recently, during CES in Las Vegas, Ingenico announced the integration of onboard services, including payments being made via screens in Navya's first autonomous taxis.
Discover how smart cars can drive sales
These innovations are breaking new ground in retail and helping to build the commerce sector of the future. And yet the absolute necessity of a seamless consumer experience is still pushing us to go even further. To this end, the arrival of voice commerce – which was the topic on everyone's lips at NRF and which, according to the latest estimates, could be worth $2.1 billion by 2020 – will bring new challenges and new opportunities. This new approach to commerce will boost the adoption of invisible payments and encourage more widespread acceptance of payments by connected objects.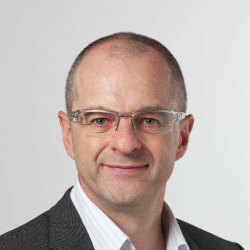 Michel Léger, EVP Innovation
Michel has over 25 years of international experience in electronic payments.
He was appointed EVP Innovation in January 2015. He joined the Group in 2010 to take over management of the company's EMEA segment and became EVP Marketing & Global Sales in 2013. He began his career with Schlumberger in 1985 where he was in charge of sales and marketing for the North American market. In 2003 he was named General Manager of the Payment Terminal Division for Axalto (ex Schlumberger) and held a similar position at Gemalto until 2009. He also helped develop Gemalto's e-payment market on a global scale.
Previous:
Watch this amazing contactless payment made while bungee jumping!
Next:
Bargain bonanzas: Make your money go further during seasonal sales