M-commerce will equal traditional methods in US
A comprehensive survey of American online shopping habits predicts mobile commerce will account for almost half (48.5%) of all online sales by 2020 and that these will be worth around $250 billion annually.
The forecast by UPS follows a survey of 5,189 comScore panellists who made at least two e-commerce purchases in a three-month period.
"In terms of discretionary spending, mobile commerce (m-commerce) growth is far outpacing e-commerce and brick-and-mortar [sales]," said the study, partly attributing this trend to one-click checkouts and a growing comfort among consumers in using mobile phones for purchases.
Mobile is proving to be a tool, not just for window shopping, but completing transactions.
"The projections for continued growth in m-commerce make it essential that retailers of all sizes be properly positioned to provide an optimal experience via mobile devices," the study added.
Ingenico is accelerating the development of mobile commerce with its payment-enabled chatbot for merchants that enables consumers to shop effortlessly from within popular messaging apps such as Facebook Messenger and Slack.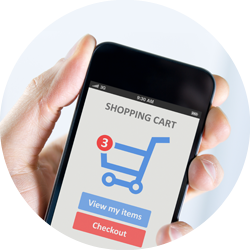 Previous:
Millennials open to facial recognition for payments
Next:
Latin America cashes in on cards