US mobile payments forecast to increase 80% by 2020
US in-store mobile payment volume will reach $75 billion this year, according to a new report.
BI Intelligence's 2016 Mobile Payments Report said that between 2015 and 2020, volumes will increase by a compound annual growth rate (CAGR) of 80% with mobile payments volume reaching $503 billion by 2020.
There will also be a sharp increase in US consumers making mobile payments. It predicted that the number of in-store mobile payment users will increase at a 40% five year CAGR to reach 150 million by the end of 2020, representing 56% of the consumer population during that year.
It said that as loyalty programmes are combined and more consumers rely on mobile wallets for other features (such as in-app payments), adoption and usage will rise over the next few years.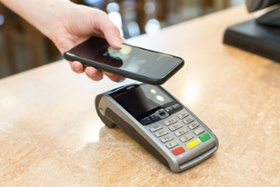 Previous:
New partnership to crack down on fraudulent new accounts
Next:
MasterCard trials biometric EMV card