Global mobile and wearable contactless payments to reach $95 billion by 2018
The global market for mobile and wearable contactless payments is estimated to reach $95 billion annually by 2018, up from less than $35 billion last year, according to new data by Juniper Research.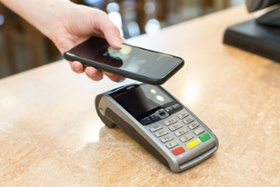 The report, Contactless Payments: NFC Handsets, Wearables & Payment Cards 2016-2020, said that the rise of a range of connected wearables has "piqued the interest of NFC stakeholders."
It said that devices such as watches and wristbands would be in the forefront of these developments, although it warned that the sector would take several years to reach critical mass.
The research found that while nearly nine million Apple Watches had been shipped by the end of 2015, these numbers were dwarfed by NFC-capable iPhones. As a result, it said that wearables as a whole would not account for more than two per cent of non-card contactless payments by value in 2018.
According to research co-author Nitin Bhas, "Apple's entry into NFC gave the industry a much needed boost, and could well be seen as the tipping point for the technology, but at the same time it sounded the death knell for the mobile operator projects."
Previous:
The future of payment revealed at Money20/20 Europe!
Next:
EMV gains momentum in the US