Merchants: 3 payment predictions for 2016
What payment solutions and trends do US merchants need to be aware of in 2016? In a recent webinar, Rod Hometh, SVP Strategic Development for North America / Ingenico Group, and Jordan McKee, senior analyst at 451 Research, shared their top three predictions.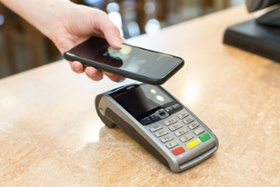 1. Demand for NFC/contactless payments on the rise
More merchants need to look into accepting NFC payments from their customers. There are many benefits to offering NFC/contactless payments including:
Increased security
Faster payment speeds
Improved convenience and reliability
Enhanced customer satisfaction and loyalty
Merchants will find consumers are simply demanding that the mobile wallets they've come to enjoy and use more frequently are accepted in their stores," McKee noted "We're already seeing some of that with Apple Pay, and are starting to see consumers push back a bit and ask those merchants who aren't currently accepting today, 'Why not?' and 'When will you?'
2. EMV and payment security is still a priority
Payment security has been top of mind for merchants since the infamous Target data breach, and they have been gathering more information on next steps. With the October 2015 EMV liability shift behind us, merchants need to look to upgrade their payment technology in 2016 to protect not only their customer's card data but also their brand's reputation.
The EMV adoption will continue through 2016," said McKee. "More merchants will upgrade their payment technology to support EMV and also take other payment security measures.
3. The omni-channel strategy will become reality
Merchants need to start thinking about cross-channel solutions in their business. Think about enabling their customers to start a purchase at home and finish it in their brick-and-mortar store. Or encourage customers to initiate a transaction on their mobile device and complete it at an unattended kiosk. These are some of the many possibilities an omni-channel strategy can help merchants with.
As more merchants complete their migration to EMV and implement advanced security measures, they will increasingly look for new differentiators," explained Hometh. "Key among these is allowing consumers to pay in multiple ways, across different channels—from in-store to mobile to online to self-service.
Previous:
Infographic: global trends in m-commerce
Next:
Discover the 1st connected screen integrating contactless multi-payment